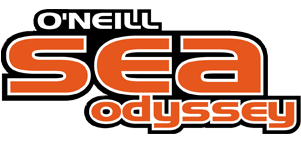 Board of Directors
Jack O'Neill (1923-2017), Founder
Jack was the developer of the surfing wetsuit and founder and Chairman of O'Neill Inc., located in Santa Cruz, California. Jack O'Neill's concern for the environment led him to search for a way to give something back to the ocean which gave him and his family so much. The O'Neill Sea Odyssey, created in 1996 provides a hands-on educational experience to encourage the protection and preservation of our living seas and communities. Jack O'Neill, resided in Santa Cruz just steps from the Monterey Bay prior to his passing in 2017.
Tim O'Neill, Board President
Tim O'Neill has been a surfer and sailor for most of his life, learning to surf and sail at age five. Tim graduated from Soquel High School, and worked at the O'Neill surf shop both during and after his years at Soquel High. Tim started running the Team O'Neill catamaran when it was launched in 1983. He received his 100 ton skipper's license in 1992. Tim also serves as President of Team O'Neill and is in charge of the O'Neill fleet. He lives in Santa Cruz with his wife Lisa O'Neill, and his sons Riley and Connor and daughter Bridget.
Bridget O'Neill, Board Chair
Born in San Francisco and raised in Santa Cruz, Bridget O'Neill serves as Vice President for International Design for O'Neill, Incorporated. In this capacity, Ms. O'Neill serves as an officer for the company and oversees all design of products and clothing for O'Neill's licensees.
Mike McCabe, Board Vice-President and Treasurer
Mike is a partner in the CPA firm McCabe & Totah, LLP, located in San Jose, California. He was born in Dublin, Ireland and spent the majority of his early years in Pennsylvania, Indiana and Ohio before moving to San Jose to attend Santa Clara University. He graduated from Santa Clara in 1978 and spent 15 years with one of the national accounting firms leaving in 1993 to open his own practice with several other CPA's. Mike is married, has 5 children and enjoys camping and scuba diving.
Nicholas P. Petredis, Esq., Board Secretary
Nicholas P. Petredis, Esq., Board Secretary, is an attorney in private practice in the Silicon Valley. He received his law degree from Temple University School of Law after completing an M.A. in Planning & Public Administration from Pepperdine University and a B.A. in Political Science from Salem College. Prior to entering law school, Nick was an officer in the U.S. Marine Corps serving as a Naval Aviator. A resident of Palo Alto, he is
the past Chair of the Palo Alto Airport Commission, advises several
non-profit organizations pro bono and is a Director on the
Board of the San Jose Medical Research Foundation.
Donna Blitzer
Donna served eighteen years in the state and federal legislative arena as Congressman Sam Farr's Chief of Staff when he was in the state Assembly and as District Director for the 17th Congressional District, covering Monterey, San Benito and most of Santa Cruz counties. She then joined University of California, Santa Cruz as Director of Community and Government Relations. Donna, now retired, lives in Santa Cruz with her husband and has two grown daughters. She graduated from University of California, Santa Cruz with a BA degree in English Literature. She currently serves on the Board of Directors for the Central Coast Small Business Development Center.
Jack McLaughlin
Jack comes from a proud family tradition in serving public education. Dr. McLaughlin is currently the Chief Academic Officer of Public Consulting Group. Jack also served as the Director of Curriculum for the Santa Cruz County Office of Education, and as a schoolteacher and administrator in New York City. He earned his Doctorate in Educational Administration from Teachers College, Columbia University in New York City.
Robert Bremner
Rob is the owner of Essential Surf Company LLC, an internet retailer and also manages a family investment partnership. He is a longtime member of the Santa Cruz County Planning Commission and has recently been appointed to the Board of Trustees of the Sutter Maternity and Surgery Center. Before that he served for nine years on the Board of Directors of the Community Foundation of Santa Cruz County. He received his BS degree in Accounting from San Francisco State University. Rob was born and raised in the San Francisco Bay Area and has resided in Santa Cruz with his wife Nancy since 1982. They have three teenage daughters.
James Beckett, M.D.
Dr. Beckett has been a practicing dermatologist at the Santa Cruz Medical Foundation since 1978, and has been educating area residents about sun safety and providing skin cancer screening for 20 years. He was an Associate Clinical Professor of Dermatology at Stanford University School of Medicine for 25 years. Dr. Beckett also served as the Medical Director of the Santa Cruz Medical Clinic from 1982 to 2004.He received his Bachelor of Science degree from the University of California, Santa Barbara and his Doctor of Medicine degree from the University of California, Los Angeles School of Medicine. At UCLA he was elected to the Alpha Omega Alpha Honor Society. His residency in dermatology was conducted at the Stanford University School of Medicine where he received a National Institute of Health (NIH) Fellowship in Dermatopathology.A recipient of the Health Caring Award from the William S. Graham Melanoma Foundation, Dr. Beckett currently serves on the boards of Santa Cruz Cancer Benefit Group, Santa Cruz Medical Clinic, Inc., Palo Alto Medical Foundation, and O'Neill Sea Odyssey.
Jim Thoits
Jim currently works for his Palo Alto-based family business, Thoits Brothers. Inc., which manages properties held by their corporation. Jim attended San Jose State University and Moss Landing Marine Laboratories where he got his BS in Marine Biology and Chemistry. He has worked for environmental firms both as a biologist, chemist and a laboratory director. As an avid sailor, he has cruised throughout the Pacific, been involved in offshore racing and has owned boats in the Santa Cruz Harbor since 1971. He was elected to the Santa Cruz Port Commission and is serving his second 4 year term. He served on the O'Neill Sea Odyssey Leadership Team, and was a member of the Santa Cruz Lighthouse Committee during the initial phases of conception through construction. He grew up in the Palo Alto area but has resided in Santa Cruz since 1971. He is married to his wife Debbie and they have two teenage daughters.