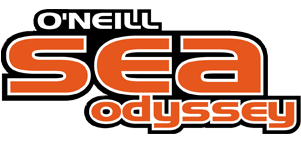 How Jack Started O'Neill Sea Odyssey
In 1983, Jack and Tim O'Neill traveled to Sand City, nestled among the sand dunes just north of Monterey, to retrieve an unfinished sailing catamaran they'd purchased.  It was transported to the Santa Cruz harbor, where its renovation was overseen by Joel Woods.
Thus, the Team O'Neill catamaran began a journey to its primary use today.  By 1996 it began to take part in Jack O'Neill's vision to take youth onto Monterey Bay to learn about the marine environment. The vision took shape when Tim O'Neill, Jim Holm, Mike Egan, Theresa Coyle and Jack McLaughlin, among others, began to develop a school science program.  Dan Haifley joined the nonprofit program in 1999 as director of science program consisting of an ocean field trip supplemented a community service project for each participating class and curriculum used in the classroom.